EADigest >
Family Law
---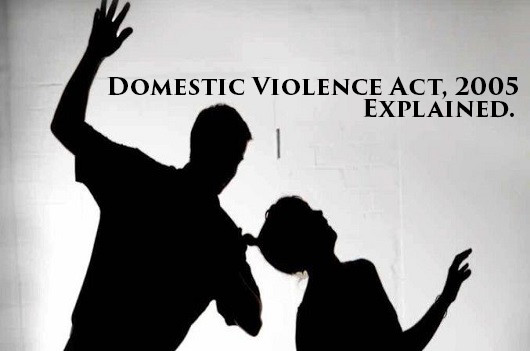 6 mons ago
Author: EA Digest
Category : Family Law
Marriages are known to be a sacred and happy bond but that might not be the case always. Even after urbanization and growing literacy rates, the domestic violence incidents are plenty. However, very few cases are recorded and a lot of them go unnoticed as the victim is too traumatized to report the abuse. The Protection of Women from Domestic Violence Act, 2005, helps protect such victims. Here is all you need to know about this Act.
Important definitions
It is essential to look at the definitions of the important terms used in the Act which are as follows.
Domestic Violence- Any form of physical, sexual, emotional, economical or verbal abuse which can cause harm or injury or creates a danger to life, limb, well-being or mental and physical state of the aggrieved person is termed as domestic violence.

Aggrieved Person- A woman who is a legal wife, mother, sister, sexual partner, or any other women residing in the household suffering any kind of such abuse is an aggrieved person.

Respondent- Any adult male who is in a domestic relationship with the aggrieved person is a respondent.
Types of abuses
Here is a look at the abuses covered under the Act.
Physical abuse- Any kind of physical force, assault and criminal intimidation is covered under physical abuse.

Sexual Abuse- Sexual abuse is a part of physical abuse which includes unwanted and degrading sexual activities or hurt caused using weapons and objects during sexual activity.

Mental Abuse- Intimidation, isolation etc are forms of mental abuse.

Verbal abuse- Name calling, shaming, and any such activity is termed as verbal abuse.

Economical abuse- Depriving the woman of enough financial resources while barring her from taking up employment is a form of economic abuse.
Against whom a complaint could be filed?
A complaint could be filed against any male adult who was in a domestic relationship and any other person/relative or friend who were a part of the abuse or responsible for causing the abuse.
Even though the Act is a beneficiary legislation, there have been many instances where women have registered a complaint under the Act against one and all relatives of the husband even without any evidence of abuse against them. To address the problem the Supreme Court in the case of Ashish Dixit v. State of UP & Anr. has held that a wife cannot implicate one and all in a Domestic violence case.
Court's duties under the Act
The Supreme Court in the case of Krishna Bhatacharjee v. Sarathi Choudhury and Another has held that the court is required to scrutinize all the relevant facts and hear the plea. The court also needs to ensure that the aggrieved person is not faced with non-adjudication. After verifying the details for being legally sound and correct the court upholds the right of women and helps them by ensuring their safety from any kind of domestic abuse.
Husband's obligations under the Act
The Supreme Court in the case of Vimlaben Ajitbhai Patel v. Vatslaben Ashokbhai Patel and ors has held that when it comes to maintenance of wife under the Domestic Violence Act read with the Hindu Adoption and Maintenance Act, 1956 it is the personal obligation of the husband to maintain his wife.
This means that the husband has to provide for the wife economically and emotionally. If the husband is found guilty for any kind of the abuses mentioned above, they are punishable under the Act.
The easiest way to keep yourself updated on critical legal queries like these and many more is to sign up to EasyAdvocacy today.
Also, like us on Facebook and follow us on Twitter, LinkedIn and Google+ to keep up to date with all things related to legal matters.
EA Digest
EasyAdvocacy © 2018
Views: 235
---
Suggestion
How to improve your newsfeed?
Newsfeed works on a system-generated algorithm based on your interests on the platform.
All the activities at EA that you perform are analysed to understand your areas of interests, and the kind of content you'd like to see in your newsfeed.
If you're following articles or questions in family law, we will show you more articles and questions in the same areas.
Your newsfeed is entirely in your control!