EADigest >
Criminal law
---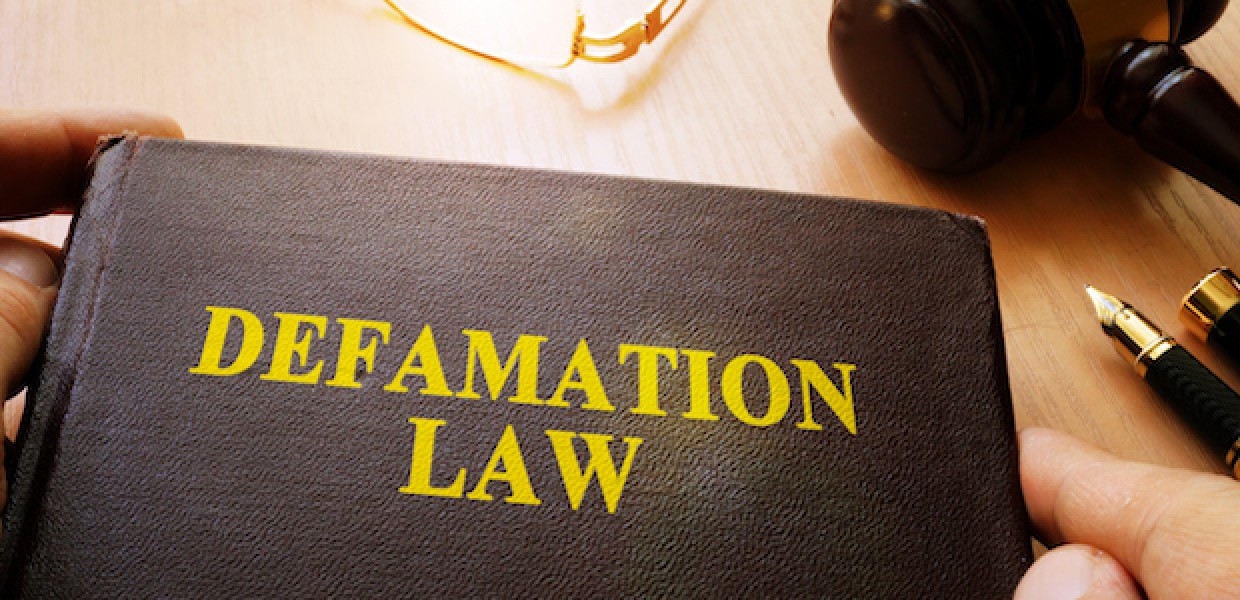 3 yrs ago
Author: EADigest
Category : Criminal law
Defamation is oral or written statement that damages someone's reputation. The word 'defamation' has been derived from the word 'diffamare' which means spreading an evil report about someone. In a culture where man's reputation is his priceless asset, defamation is considered to be a serious offence. Reputation also being an integral part of Article 21 of the Constitution of India (Right to Life and Liberty) enjoys the status of a Fundamental Right. However, it is not an absolute right, and as stated under Article 19(1)(a) of the Constitution (Right of freedom of speech and expression) reasonable restrictions can be imposed on a person's right in the interest of the security of state, friendly relations with foreign state, public order, decency, morality, contempt of court and defamation.
 
What is a defamatory statement?
As defined under Halsbury's Laws of England, "Defamatory statement is a statement which tends to lower a person in the estimation of right-thinking members of the society generally or to cause him to be shunned or avoided or to expose him to hatred, contempt or ridicule, or to convey an imputation on him disparaging or injurious to him in his office, profession, calling trade or business.â€
 
Defamation as given u/s 499 of the Indian Penal Code, 1860
Section 499 of the IPC, 1860 defines the offence of defamation with the aid of four explanations, ten exceptions and some illustrations appended to the exceptions.
As per the section, the offence of defamation consists of three essential ingredients:
There must be a making or publishing of an imputation concerning a person

Such imputation must have been made by words, either spoken or intended to be read, or by signs or by visible representations and

The said imputation must have been made with the intention to harm, or with knowledge or reasonable belief that it will harm, the reputation of the person concerned.
Thus for an offence of defamation to attract mens rea (guilty mind) is required to be proved against the accused person.
 
Exceptions to the offence of defamation
All the exceptions under section 499 may be classified into five groups:
Exception 1 relates to the plea of justification, i.e., "it is not defamation to impute anything which is true concerning any person, if it be for the public good that the imputation should be made or published."

Exceptions 2, 3, 5 and 6 relates to the plea of fair comment on a matter of public interest

Exception 7 and 8 cover the cases of censure by a lawful authority passed in good faith and accusation made to a person in lawful authority in good faith

Exceptions 9 and 10 cover the cases of imputation made in good faith, by a person for the public good, and the case of caution intended for the good of the person to whom it is conveyed or for the public good

Exception 4 covers the plea of fair report of the public proceedings.
 
Punishment for defamation
As stated under section 500 of the Indian Penal Code, 1860Â "whoever defames another shall be punished with simple imprisonment for a term which may extend to two years, or with fine, or with both."
The offence under this section is non-cognizable, bailable and compoundable with the permission of the court, and is triable by Court of Session in case of a public servant, and in other cases, it is compoundable and traible by a magistrate of the first class. Â 
 
Defamation vis-Ã -vis Freedom of Speech
Publishers, editors, journalist, and reporters forming part and parcel of freedom of speech and expression, which no doubt includes freedom of press as well, are entitled to ventilate their views only within the permissible limits, permissible by law and not beyond thereto. They are expected to be careful and cautions while proceeding with publication of the matter and they cannot claim any special privilege as far as the law relating to defamation is concerned.
In a leading judgment of R. Rajagopal v. State of T.N., the Supreme Court has held that the Government has no authority in law to impose a prior-restraint upon publication of defamatory material against its officials. The government could only take action for damages after the publication of such material if they prove that the publication was based on false facts. The court held that no action could be initiated against the press if the publication was based on public records including court records.
 
Judicial Precedents
In the landmark case of Subramanian Swami v. Union of India, The Supreme Court, upholding the Constitutionality of section 499 and 500 of the Indian Penal Code has held that the reasonableness and proportionality of a restriction is examined from the standpoint of the interest of the general public and not from the point of view of the person upon whom the restrictions are imposed.
In John Thomas v. K. Jagadeesan, the Supreme Court was faced with the question that if defamation pertains to an association of persons or a body corporate, who could be the complainant. The Court ruled that this could be answered by making a reference to section 199(1) of The Code of Criminal Procedure, 1973 which says that no court shall take cognizance of an offence under Chapter XXI of the IPC except upon a complaint made by some person aggrieved by the offences. This indicates that the complainant need not necessarily be the defamed person himself. Â 
This is all about defamation under u/s 499 of the IPC, feel free to leave a comment below to let us know about your views and for more such interesting articles sign-up to EasyAdvocacy now.
You can also like us on Facebook and follow us on Twitter to never miss out on any of our updates.
EA Digest
EasyAdvocacy © 2018
Views: 1352
---
Suggestion
How to improve your newsfeed?
Newsfeed works on a system-generated algorithm based on your interests on the platform.
All the activities at EA that you perform are analysed to understand your areas of interests, and the kind of content you'd like to see in your newsfeed.
If you're following articles or questions in family law, we will show you more articles and questions in the same areas.
Your newsfeed is entirely in your control!